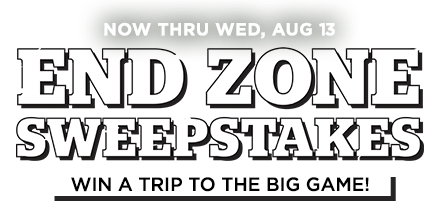 Get $25 Off when you buy Lucky, Silver or Buffalo brand jeans, and for each pair you purchase, you'll automatically be entered to win!
(1) Grand Prize Winner = Free Trip to football's biggest game.
Tickets, airfare and hotel accommodations provided to the University of Phoenix Stadium in Glendale, Ariz., on Sunday, February 1, 2015. Approximate value = $20,000.
• Includes two (2) round-trip coach airfare tickets
• Hotel accommodations for a 3-day / 2-night stay
• Two (2) tickets to football's biggest game. (Estimated value $10,000).
(2) Runner-Up Prizes = 2 lucky winners will receive a $5,000 Cash Prize.
Winner will be notified August 25, 2014.
SHOP NOW
The Men's Wearhouse, Inc.
2014 End Zone Sweepstakes - Official Rules
NO PURCHASE NECESSARY TO ENTER OR WIN THIS SWEEPSTAKES. PURCHASING DOES NOT IMPROVE YOUR CHANCES OF WINNING
1. Eligibility: Open only to legal residents of the United States who are 18 years of age or older as of date of entry. Employees and agents of The Men's Wearhouse, Inc. ("Sponsor"), its affiliate companies, and all coordinating agencies for the "2014 End Zone Sweepstakes" (the "Sweepstakes"), and the immediate families of each, or persons living in the same household of such employees are not eligible. The Sweepstakes is governed by U.S. law and is subject to all federal, state and local laws. Void where prohibited by federal, state or local laws.
2. Sweepstakes Period: Sweepstakes begin at 9:00 am PDT on August 4, 2014, and ends at 11:59 pm PDT on August 13, 2014. Drawings for the winner will be conducted pursuant to Paragraph 6 below.
3. How to Enter: You may enter the Sweepstakes one of two ways.
Entry method #1: You will be automatically entered when you purchase any pair of jeans by Lucky Brand, Silver Jeans Co., or Buffalo by David Bitton, (excludes all clearance) ("Qualifying Purchase") during the Sweepstakes Period under a Perfect Fit account in store, or online with an email address. International orders are not eligible. You will receive an entry into the sweepstakes for each Qualifying Item you purchase.
Entry method #2: You can handprint your name, age, full mailing address, email address, and telephone number on a 3.5" x 5" stamped postcard and mail it to "2014 End Zone Sweepstakes", 6100 Stevenson Blvd, Building A, Fremont, CA 94538. No photocopy or mechanically reproduced entry forms or entries are allowed. Sponsor is not responsible for any lost, late, illegible, misdirected, postage-due or mutilated entries. To be eligible, your entry must be received by 5:00 pm PST on August 13, 2014.
Enter as often as you wish; however, each entry must be mailed in a separate postmarked, stamped envelope, and only one entry per envelope will be accepted. No mechanical reproductions of entries will be permitted.
4. Consent to Use of Information: Participants consent to the business use of their image and the personal information provided here by Sponsor, its subsidiaries and affiliate companies, including all use contemplated in the administration of this sweepstakes, the compliance with any requests for winner's lists, and any publicizing of winners or sweepstakes generally. Winners further consent to Sponsor's distribution of personal information, including the executed W9, for the distribution of the prize. If you do not wish to receive any information from Sponsor, its subsidiaries and affiliate companies, please unsubscribe by writing to The Men's Wearhouse, Inc., ATTN: Customer Relations, 6380 Rogerdale Road, Houston, TX, 77072-1624 or calling 1.800.851.6744.
5. Prize & Approximate Retail Value: Total estimated value of prizes: $20,000.00.
One (1) Grand Prize winner will receive a trip to Pro Football's Big Game. Grand Prize Package includes two (2) round-trip coach airfare tickets from major gateway airport nearest winner's residence to location of the Big Game, hotel accommodations consisting of one (1) double occupancy room at a Holiday Inn or equivalent thereof for a 3 day / 2 night stay, and two (2) tickets to Pro Football's Big Game. (Estimated value $10,000). Winner is responsible for cost of transportation to and from winner's residence and gateway airport closest to winner's residence.
Two (2) second prize winners will receive $5,000 cash prize each, in the form of a check (no reimbursement if check is lost or stolen), to use toward season tickets or a new man cave.
All travel arrangements must be booked through Sponsor's Travel & Events Department. All travel is based on availability. All travel must be completed within one calendar year of date of prize acceptance. Prize winners will receive travel booking instructions sent by Sponsor.
Actual value of the Prizes may vary depending upon the time and details of travel, any difference between the stated value and the actual value, if any, will not be awarded. Once trip dates have been booked, no change, extension or substitution of trip dates is permitted, except at Sponsor's sole discretion. Sponsor will not replace any lost or stolen tickets or similar items once they are in the possession of the Winner or their guests. Sponsor shall not be responsible for any cancellations, delays, diversions or substitution or any act or omissions whatsoever by the air carriers, or other transportation companies or any other persons providing any of these services and accommodations to passengers including any results thereof such as changes in services or accommodations necessitated by same. If any portion of the Prize winner's trip is unable to take place as planned, for any reason, including but not limited to, cancellation, scheduling conflicts or an event of force majeure, the components of the Prizes that are available will be awarded and the obligations of Sponsor to the winners will be fulfilled, and no other additional compensation will be provided. Prize conditions may be added or modified by companies providing those portions of the prize. The prize restrictions/conditions stated herein are not all-inclusive and may be subject to additional restrictions/conditions, which may be stated in the Release and/or prize travel documents. Sponsor shall not be liable for any loss or damage to baggage. Winner is solely responsible for obtaining all necessary and required travel documents (e.g. valid government-issued ID, valid passport, credit card, etc.) and insurance. All airline tickets issued in conjunction with a prize are not eligible for frequent flyer miles, and no code-share flights may be used. Prize components cannot be used in conjunction with any other promotion or offer, and no portion may be separated except at the sole discretion of Sponsor. Prize package does not include insurance, telephone charges, personal expenses, meals, gratuities, incidental charges, or any other items not specifically described in these Official Rules; expenses for any of the foregoing are the sole responsibility of the winner.
6. Random Drawing & Certain Restrictions: On or about August 25, 2014, one (1) Grand Prize winner and two (2) second place winners will be selected in random drawing conducted from among all valid entries received pursuant to Section 3. On the same day, but after the selection of the winners is completed, then Sponsor will select alternates in the same order Sponsor selected the winners.. The random drawing will be conducted by Sponsor or its designee. Winners will be notified by email or telephone within two (2) business days of drawing. Winners will be required to sign a Declaration of Eligibility and Liability/Publicity Release (except where prohibited by law), an IRS form W-9, and such other documents reasonably required by Sponsor in connection with Sponsor's use of Winner's name, video-images, likenesses, and biographical information without compensation. All such documents issued by Sponsor must be signed and returned without edits (unless approved by Sponsor) by September 8, 2014, or prize will be forfeited. In the event that Winners forfeit prizes for any reason, the alternate Winner previously selected will be notified by Sponsor, and such alternate winner shall provide all fully executed documents within 2 weeks of notification. No efforts to distribute the Prize will be made if the alternate forfeits the respective Prize. Winners are solely responsible for reporting and paying all local, state and federal taxes and any other expenses or costs relating to the prize.
7. Consumer Disclosure: Odds of Winning: Odds of winning a prize depend upon the number of eligible entries received, and are subject to the selection of winning entries as described in Paragraph 6.
8. General Terms and Conditions: Prize cannot be assigned or transferred. No prize substitution is permitted, except at Sponsor's sole option. Sponsor assumes no responsibility for any error, omission, deletion, defect, theft or destruction or unauthorized access to, or alteration of, entries. No correspondence or other inquiries regarding entries will be accepted. Acceptance of a prize constitutes permission, by Sponsor, to use Winner's name (first name and/or last name or any other name provided with entry) and/or likeness, in all forms and in all media and in all manner, without compensation and without any restriction or notice as to changes or alterations for any advertising, promotion, publicity, or any other lawful purposes.
9. General Release/Limitation of Liability: By entering the Sweepstakes, participant agrees (i) to be bound by these Official Rules and the decisions of administrators and Sponsor, which shall be final in all respects, and (ii) to release Sponsor, its affiliate companies, agents, consultants, contractors, legal counsel, advertising, public relations, promotional and marketing, website providers, webmasters, and administrator, and its respective officers, directors, employees, representatives and agents ("Sponsor Indemnitees") from any and all liability, claims or damages arising out of participant's participation in the Sweepstakes, and the acceptance and use of any prize, and the prize. Notwithstanding the foregoing, if the preceding release is determined by a court of competent jurisdiction to be invalid or void for any reason, participant agrees that, by registering, (i) any and all disputes, claims and causes of action arising out of or in connection with the Sweepstakes, or any prize awarded, shall be resolved individually without resort to any form of class action; (ii) any claims, judgments and awards shall be limited to actual out-of-pocket costs incurred, including costs associated with participating in the Sweepstakes, but in no event attorney's fees; and (iii) under no circumstances will any entrant be permitted to obtain any award for, and entrant hereby waives all rights to claim, punitive, incidental or consequential damages and any and all rights to have damages multiplied or otherwise increased and any other damages, other than damages for actual out-of-pocket expenses. Participant further agrees that Sponsor Indemnitees shall have no responsibility or liability (including, but not limited to, liability for any property loss, damage, personal injury or death and injury) in connection with: participation in Sweepstakes; acceptance/possession (including, but not limited to, delays by shipping companies), defects, and/or use/misuse of the prize. Each participant further agrees to indemnify and hold harmless Sponsor Indemnitees from any and all injuries, losses, damages, claims, actions or any liability resulting or arising from participation in this Sweepstakes or acceptance, possession or use of a prize, and to release all rights to bring any claim, action or proceeding against Sponsor Indemnitees. Sponsor Indemnitees shall not be liable for any injury, damage, loss, expense, accident, delay, inconvenience or irregularity that may be caused or contributed to (1) by any wrongful, negligent or unauthorized act or omission on the part of any of their agents, servants, employees or independent contractors; (2) by any wrongful, negligent or unauthorized act or omission on the part of any other person or entity not an employee of a Sponsor Indemnitees; or (3) by any other cause, condition or event whatsoever beyond the control of Sponsor Indemnitees.
Prize is provided "AS IS" without warranty of any kind, either express or implied, including, but not limited to, the implied warranties of merchantability, fitness for a particular purpose or non-infringement. Some jurisdictions may not allow the limitations or exclusion of liability for incidental or consequential damages or exclusion of implied warranties, in which case the above limitations or exclusions may not apply.
10. Construction: All issues and questions concerning these Official Rules or the rights and obligations of any entrant shall be governed by and construed in accordance with the laws of the State of California, without giving effect to its conflict of law rules or provisions. All entrants expressly agree to submit to the laws of and the jurisdiction of the federal and state courts of the State of California, and hereby waive the jurisdiction of any other court that, now or in the future, could be considered competent for any reason. All actions, proceedings or litigation relating to this Sweepstakes shall take place in the State of California, County of Alameda. The invalidity or unenforceability of any provision of these Official Rules shall not affect the validity or enforceability of any other provision. If any provision is determined to be invalid or otherwise unenforceable, these rules shall be construed in accordance with their terms as if the invalid or unenforceable provision was not contained therein.
11. Winner's List: For a list of winners, send a stamped, self-addressed envelope to "2014 End Zone Sweepstakes", 6100 Stevenson Blvd, Building A, Fremont, CA 94538. Requests must be received by March 31, 2015.
12. Administration of Sweepstakes: This Sweepstakes is sponsored by The Men's Wearhouse, Inc. whose corporate headquarters is at 6380 Rogerdale Road, Houston, TX 77072. As it relates to the Sweepstakes, the Men's Wearhouse may be contacted at The Men's Wearhouse "2014 End Zone Sweepstakes", 6100 Stevenson Blvd, Building A, Fremont, CA 94538.
All federal, state and local laws and regulations apply. Void where prohibited or restricted by law.