The Workplace, The Summer, and You.
Keep your cool by looking sharp.

AS MUCH AS YOU may want to wear board shorts to the office, it's probably not appropriate. But you can opt for fabrics known for their breathability, including lighter wool, cotton, and linen.
The Casual Jacket
Suitable for outdoor parties, weddings and the office, the casual jacket is extremely versatile. When looking at jackets, you'll know it's casual if it has little or no lining. The casual jacket can provide the polished look you want, without the heavy structure (and layers) of a traditional sport coat or blazer.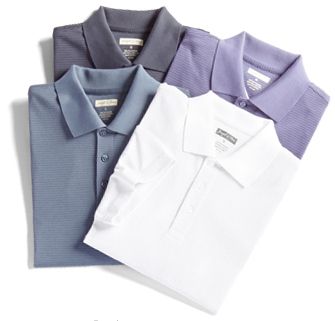 The Polo Shirt
A polo shirt adds an extra level of polish over a tee or by itself, while still allowing you to be comfortable. Even the most basic polo is generally considered a step up from the most expensive tee (it's all about the collar). If in doubt about whether a tee is too casual, trust us: go for the polo.
The T-Shirt
The tee-shirt is about as casual as it gets in shirts; if you can wear one to work, choose a Slim Fit with no logo, and make sure the fabric is thick enough that it is not see-through.
The Short Sleeve Sport Shirt
The next step up in terms of formality, the short sleeve sport shirt looks best when it fits right. The shorter the sleeves and wider the sleeve openings, the more informal it appears. You can play with the patterns and textures; there is a wide range of plaids, stripes and checks to choose from.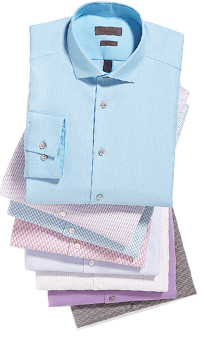 The Long Sleeve
Dress Shirt
Choose a light color to help you stay cool, or go for a brighter color or pattern for a more confident look. Slimmer lines are in for dress shirts; make sure the fit is right for your body type.
Casual Pants
Casual pants are a great choice for warmer weather; the lighter-weight fabric keeps you cool while still looking put together. If you wear jeans at work, go for a darker wash, with minimal embellishments.
Dress Slacks
Wool dress slacks can be worn year-round; choose a lighter weight fabric in a seasonal (lighter) color. Linen is also a classic choice; it keeps you cool in warm weather and you can pair linen pants with a matching suit separates jacket and vest for dressier summer occasions.
The Light Suit
If you have to wear a suit to the office (and many of us do), fear not! You can still be comfortable and truly look sharp. Spring and summer suits are constructed of lighter fabric than their winter counterparts. They also often come in lighter hues, so you can look seasonally appropriate while you're dressed up.