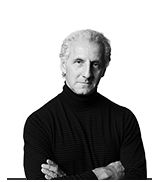 Our Chief Creative Director, legendary menswear designer Joseph Abboud, looks forward to Father's Day as a time to connect with his daughters over a shared love of style.
Father's Day is a great opportunity to show every dad he's appreciated. Whether he's an outdoors guy, sports fan or urban entrepreneur, every man wants to be himself and wear clothes he looks great in. This Father's Day, update his wardrobe with enduring classic menswear that will remind him just how good great style feels and how much he's always meant to you.

We checked in with Joseph to find out how fatherhood impacts his personal style and why a classic approach to dressing dad is always the best. Taking the guesswork out of finding the perfect gift, his tips will help you chose the easy, essential pieces that will keep Dad looking his most stylish.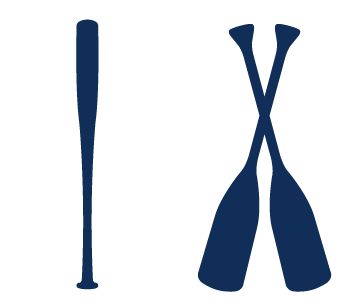 "My girls always try and find something that relates to me being a menswear designer, because they know I'll love it. The gift with the sentiment behind it, that's always the best."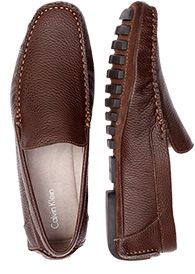 What do your kids think about your style?
My style isn't that flamboyant in terms of the way I dress anyway, but I am sensitive to the fact that they like the more traditional aspects of menswear like the navy blazer, or classic chinos. My daughters love it if I'm just wearing a white button down shirt, blue jeans and a pair of moccasins, that's when they say they love the way I look.
Has being a father changed the way you dressed?
Having kids does really impact style. It's a holistic view of life, not just of the clothes we wear but how we use them. With my daughters, I can't be too much of a rock star. I have to be more of a traditional dad and that's ok. I'm aware of kids and the embarrassment factor with parents, I completely get that. So when I go with them to go out to do something, I take that into consideration.
What's different about the way fathers look now?
It used to be that all fathers did that 9-5 thing, all dressed the same. You could be an architect, a teacher or a contractor, now you dress for the life you lead. Clothes that are comfortable and work well for your own life, it's more contemporary these days. Being appropriately dressed for any occasion – and it doesn't mean being dressed up – it means being dressed. That's what style is all about.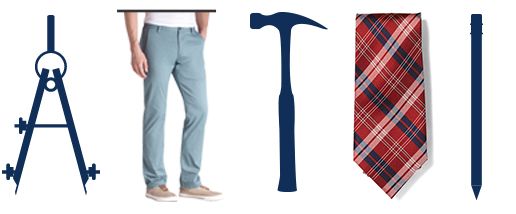 What are some simple ways all men can update their individual looks?
It's important to remember that every time you put anything on, you're making a style statement. So there's always an opportunity there to look and - here's what's most important - to feel better. So whether it's updating the wash of your jeans or choosing a slimmer fit, not necessarily a skinny leg, but pants are not as wide as they used to be now. The fit of things has changed. So there are new details to notice and incorporate.
What are your favorite essential pieces to stock Dad's wardrobe with this season?
A great linen sport coat is so versatile. It's lightly constructed so it's casual enough that you could wear it with shorts or blue jeans. I love the idea of seasonal dressing, bringing a linen blazer into the mix to suggest a change of seasons is a great way to do it. We need to stop dressing the same all year round.
The navy blue blazer is one of the most important items in a guy's wardrobe whether he's eighteen or seventy-eight. Every man should have one. It used to be that wool was such a heavy fabric, but this cloth is lightweight and perfect for summer. It's available in a streamlined, modern cut, which is what we're doing now at the Men's Wearhouse.
Our chambray shirt is timeless and looks good on all men. It's a great piece for now, you could wear it with a jacket and tie in the city, or roll the sleeves up and leave the neck open for a casual day at the coast.
These 3 stylish pieces will perfectly complement every father's wardrobe.
What's the best approach to choosing the perfect Father's Day gift?
I really love the idea of gift certificates for occasions like these. I'd take him out for a nice brunch and then say, "Dad we're going to take you down to the Men's Wearhouse and pick out a few new things." Make it a day out, spend some time with Dad, and make updating his wardrobe a fun thing to do together.
"Having kids does really impact style. It's a holistic view of life, not just of the clothes we wear but how we use them."