YOUR GUIDE TO: SURVIVING YOUR FLIGHT
You're sitting near a screaming/kicking child: If he's ruining your flight, ask the parents if they can tell their child to stop whatever it is he's doing. Say please and thank you when asking, and if that doesn't work, inform the flight attendants. They will take it from there.
You're sitting near a screaming baby: Not much you can do. Try earplugs or headphones to drown out the noise.
You want to spread your legs: Draw an imaginary line from your armrests to the armrests of the seats in front of you. Don't let your knees cross those lines, and don't let anyone else's, either.
Your neighbor wants to spread his legs: If he looks like a leg spreader, mark your territory by positioning your knees just inside the imaginary lines you've drawn. If your neighbor's knees knock against your knees, do not cede an inch. It should take only a few moments of touching knees to sufficiently shame him back into his own space.
You're having a cocktail: Drink enough to relax, and keep your
voice low.
You've got a carry-on: Don't wheel your bag behind you down the aisle – instead, carry it in front of you until you get to your seat. Try to stow it in an overhead bin in the general vicinity of your seat. (One row forward and one row back is fair game.) Wheels in first, handle out.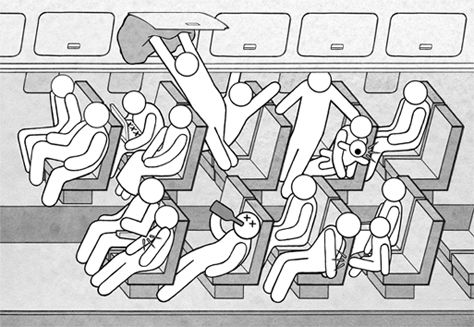 You've got a window seat and you need to use the bathroom: Exit facing the front, with your back to your neighbors.
You want the armrest: If you're sitting in a window or aisle seat, you already have one armrest all to yourself. When it comes to the middle armrest, the elderly, women, and children get first dibs. If, however, none of those apply or you're sitting in the middle seat, it's first come, first served. If one or both armrests are already taken, try reclining your seat all the way back and positioning your elbow behind your neighbor's.
Travel Tips:
THREE KINDS OF BAGS
Wherever your business or pleasure travel takes you, you'll need some good luggage to get you there. And, depending on how much you're bringing along, you have options – like these.
To Carry: Bags made of butttery soft leather are great – in theory. But, for those of us who live in the real world of dog-eat-dog airports and freak rainstorms, it's wiser to invest in a lightweight, durable nylon bag.
To Wheel: Easy on your arm, light on your stride. Practically speaking, the wheeled suitcase is a no-brainer. But there is the smaller matter of pride, that itching notion that a real man carries his bag. So, if you must wheel, do it with some what-are-you- looking-at style.
To Check: Ever see luggage loaded into the belly of a plane? Sides of beef get more respect than your precious cargo. A bag with a ballistic-nylon exterior can handle whatever the baggage handlers can dish out, and a large wheeled case is just big enough for a week or so away.

Esquire Rule No. 49 It is unnecessary to compound the effect of white shoes by wearing a white belt.